Allianz OneTrip Prime Travel Insurance
Advantage
High company's reputation
Wide network, 24/7 assistance
Trip Cancellation & Trip Interruption Coverage
Emergency Medical & Emergency Medical Transportation Coverage
Baggage Loss/Damage/Delay Coverage
Onetrip Prime - Absolute Peace Of Mind
OneTrip Prime will give you complete peace of mind whether you're planning an epic road trip or a week at the beach with the family. OneTrip Prime is the most popular choice among families on vacations, including key benefits such as trip cancellation/interruption, emergency transportation, and emergency medical care. If you have to cancel your trip for any reason, as long as it's on the covered list, you'll all receive trip cancellation benefits. This means that your prepaid and non-refundable expenses such as vacation rentals, transportation costs, etc. can be reimbursed. When traveling with a parent or grandparent on trips covered by OneTrip Prime, children under 17 are also covered for free.
In the cases of covered trip delay and baggage delay, OneTrip Prime also adds a fixed inconvenience payment of $100 and requires only proof of delay without requiring an invoice. This is what we appreciate the most in the plan because it provides maximum customer support without requiring cumbersome procedures. Upgrade your plan to include Rental Car Damage Protection at an affordable price if you plan to rent a car for your trip. In addition, OneTrip Prime offers many benefits to customers participating in trips with a duration of up to 180 days.
Lost your bag full of valuables? Trip canceled? Keep calm. You don't have to worry about a bad case when you sign up for the OneTrip Prime Plan because it's one of the best travel insurance plans for international travelers. It creates a layer that protects you from any storm. It protects all members of your family: when traveling with parents or grandparents, children under 17 are included for free. As part of our series of reviews on insurance, especially travel insurance, below we offer an in-depth look at the OneTrip Prime Plan.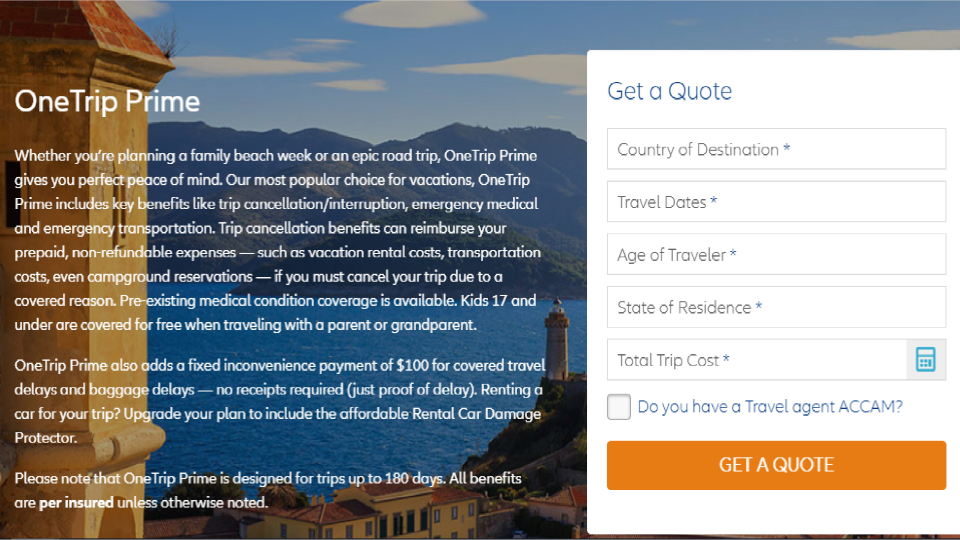 Allianz OneTrip Prime Travel Insurance
Absolute protection
Allianz interruption protection and trip cancellation
In the unlikely event, you have to cancel or disrupt your trip for a reason that falls within the covered categories, Allianz Travel OneTrip Prime will promptly refund you non-refundable trip payments again. It will fully cover 26 reasons for canceling or disrupting your trip. If you have to return home early because of a covered trip interruption, Allianz Travel OneTrip Prime can reimburse you up to 150% of the cost of your original trip.
Allianz Emergency medical and dental coverage
Regular health insurance plans rarely cover you when you travel abroad. OneTrip Prime Plan reimburses you for urgent medical or dental care while you're traveling. This policy will protect you from exorbitant medical expenses up to $25,000. According to statistics, the number of people having health problems while traveling is not small due to differences in environment, food, temperature, etc. We rely on reports and documents to give advice. Advice for you: travel insurance is necessary.
Allianz Emergency medical transportation benefits
Allianz Travel OneTrip Prime covers up to $500,000 for medically necessary transportation costs to a customer's medical facility or home in the event they experience a covered injury or illness.
Allianz Existing medical condition coverage
The most important thing when you have a chronic condition or were recently diagnosed is to make sure you have insurance for that existing condition. If you meet certain requirements, the OneTrip Prime Plan may still cover existing medical conditions for free. Of course, you must be able to travel medically at the time of insurance purchase. Some other requirements you need to see on the official website of the insurance company. We also note that the prices and terms mentioned in this review are for reference only at the time of publishing. Talking directly with an Allianz Global Assistance travel advisor is the best way to make sure you have the insurance you need. We recommend that you be sure of the terms when purchasing any insurance plan.
Allianz 24-hour hotline assistance
You can call for free help wherever you are when you have signed up for travel insurance from Allianz Global Assistance. Replace your lost passport, send a text message home or rearrange your travel plans, find a qualified doctor,... Allianz Global Assistance's hotline specialists will gladly help you.
Allianz Benefits in transit
If your baggage is damaged, lost, or stolen, you can get a reimbursement of up to $1,000 with Baggage coverage. If your baggage is delayed by at least 24 hours, Baggage delay coverage will refund up to $300 for necessary purchases. In addition, Travel delay coverage reimburses you for lost meals, accommodation, and prepaid expenses at the airport if your trip is delayed by at least six hours for up to $800 reimbursement. Don't worry when delays cause you to miss your flight or journey, Missed connection coverage will reimburse you up to $800 for incidental expenses resuming your trip. Change fee coverage can reimburse you for up to $250 in airline fees when you need to change your travel dates. Along with many other policies, we rate Allianz Travel OneTrip Prime as an insurance package you should consider when preparing to travel.
OneTrip Prime Plan Travel Insurance: recommended for most travellers
Through the information and policies made publicly available by the provider, we have found that the OneTrip Prime plan is capable of providing strong coverage for most international trips. OneTrip Prime is the best travel insurance that protects against common travel risks, such as covered injuries, illnesses, and natural disasters. People can rest easy knowing they are protected from the problems travelers often face.
The OneTrip Prime plan may be suitable for people traveling abroad with their children or grandchildren, traveling internationally, but not in too remote or dangerous areas, or taking cruises. You should read the Allianz Travel OneTrip Prime policy documents carefully to understand what is covered under the travel insurance plan. Hope you will have fun, safe and meaningful trips with Allianz Travel OneTrip Prime.